In Meesen's kitchen, apprentice chefs learn the unique characteristics of these special ingredients and how to treat them with the utmost respect. These formative lessons about the distinctive textures, smells, and tastes of local ingredients leave a mark—and the budding chefs will continue using these products throughout their careers. In turn, the chefs nurture their close relationships with local artisans and use these ties to forge their own culinary identities.
Strolling through the market, you'll immediately be struck by how unbelievably fresh all the products on display are. You'll soon be bursting with ideas for gourmet meals. This scenario will sound familiar to fans of the region's local ingredients.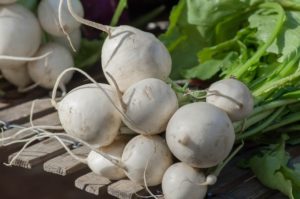 Artisans crafting our identity
The Québec City area is surrounded by fertile farmland that's perfect for growing all sorts of fruits and vegetables. Passionate local farmers cultivate and grow delicious produce that delights the senses of chefs and consumers alike.
One such farmer is Marc Bérubé, who works at Ferme des Monts in Sainte-Agnès in the beautiful Charlevoix region.
*Kitchen confidential: the first time we met…
This young guy shows up, wearing boots, carrying pails brimming with fresh blackcurrants. For most of the staff, it was their first encounter with these tiny, deep purple berries—and he had plenty more new discoveries in store! Unusual produce like ice plant, sweet cicely, and rustic lamb's lettuce, not to mention lovage! How can you live without lovage?! Once you try it, you're hooked!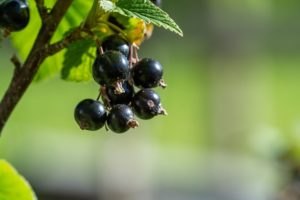 Ferme des Monts is the black sheep of artisan farms. It specializes in growing rare ancient crops like heirloom Jerusalem artichokes, blue potatoes, and a unique type of fingerling potato known as corne de bélier.
Another important figure in the Charlevoix farming community is artisan Jean Leblond, who started growing produce in 1976. He's retired now, but he passed down his passion and knowledge to his daughter Valérie. Jardinier des Chefs has won over consumers with its edible flowers, microgreens, and heirloom vegetables including leeks, fennel, corn, white turnips, and zucchini. Today, the farm continues to surprise and impress with niche and highly coveted products such as the Gorria pepper (an Espelette-style pepper), the Spanish Padron pepper, a strong Cayenne pepper, and the ever-popular paprika. These invaluable plants are "custom-grown" to exacting standards, then harvested with an impressive attention to technique and detail.
And let's not forget about the cheese makers.
Kitchen confidential: the first Fleurmier cheese wheels
They were so cute!!! They looked like little clouds. Le Fleurmier had just been handcrafted by the talented cheesemakers at Laiterie Charlevoix. The pristine flowery rind was so white. To bake it, we wrapped a wedge in a sheet of phyllo pastry, folding it up like origami. After that, we baked it so that the melting Fleurmier cheese would stay trapped inside its crunchy shell.
Laiterie Charlevoix is a true family-run business. The Labbé family's passion for traditional cheese making began in 1948 in Baie-St-Paul. In the 1970s, the dairy farm began maturing cheese. From the oldest aged cheddars to the youngest one, Origine de Charlevoix, all the cheeses produced at Laiterie Charlevoix are made from 100 % Canadian cow's milk.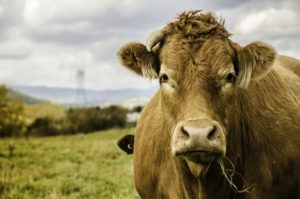 Kitchen confidential: for the love of cheese
We used to eat Migneron in the kitchen! A plain piece of baguette with a big slice of cheese on it, slightly melted in the oven—it was a match made in heaven. We fell in love with this cheese. It goes without saying that in Chef Meesen's kitchen, you're never short on cheese—you're more likely to have too much!
Baie-St-Paul is home to another iconic Québec cheese dairy. Maison d'Affinage Maurice Dufour makes the famous Migneron, a star of the Québec cheese scene. If you've ever had the opportunity to meet Maurice, you can see why his Migneron is such an unforgettable cheese.
In addition to farmers and cheesemakers, there are plenty of fine liqueur, syrup, and vinegar producers in the region.
Kitchen confidential: nectar of the gods
Chef Meesen feeds off innovation and has always encouraged new producers. One day, he showed up at work with a bottle in his hand. Inside was a deep purple, syrupy liquid. I took a sip: glug, glug, pow! What a knockout! It was Carminé liqueur from Verger du Clocher. It's an apple juice reduction (apple must) with the complexity of an aged balsamic. Wow!!! And I got to use this nectar of the gods to create a dish we would put on the menu. Carminé liqueur is still one of George V's favorite products today. We put it in the mouthwatering pork and apple sliders—you gotta try 'em!
Verger du Clocher is located in Saint-Antoine-Abbé in the Laurentians. The Carminé liqueur family includes a verjuice we refer to as a "summer vinegar." It's somewhere between a wine and a vinegar. There's also an apple vinegar called Rubicon that's as complex as a balsamic and has notes of spices, flowers, and fruits.
And don't forget the livestock—everything from tiny quails to mighty buffalo and elk.
Kitchen confidential: pretty little things
Ooh!!! They look so good! What are they? Oh wow! They're quails! They were all tied up, nicely browned, and pleasingly plump. Turns out they were so plump because they were stuffed with wild rice, milkweed pods, and garlic flower. These stuffed quails were slowly roasted in the oven and basted in their own juices until caramel on the outside and oh-so-tender on the inside. To go with them, we made a demi-glace with berries and a liqueur made with cloudberries, a small golden berry found on the Lower North Shore. Admit it—your mouth is watering, right? Check out the recipe here 😉
Ferme d'Orléans is located in Saint-Laurent on Île d'Orléans, an area of Québec known for producing a bounty of local products. The fourth-generation family farm was founded in 1935 and specializes in raising fine poultry such as jumbo quail, partridge, guinea fowl, pheasant, and duck.
George V has another gourmet partnership with Les Canardises, a farm that sells various duck products including, of course, foie gras. Morille Québec is a young initiative that specializes in harvesting and processing forest products, particularly fresh and dried mushrooms. Cassis Monna & Filles has been passed down from father to daughter and sells blackcurrant in all its forms, even a soft cream 😉 Then there's Porc de Beaurivage and countless other artisans just waiting for you to visit! 😉
This short overview says a lot about how choosing distinctive local products can elevate the taste of a meal and create a one-of-a-kind dining experience. These unique regional flavors shape and define each chef's cooking. When you source ingredients locally, you become part of a trade economy where each party benefits from the other's expertise. Chef Meesen has always put his trust in local artisans and in his team. And that trust is a driving force that fosters creation.